May 2009
Inductions
by Barb Lundy
She might have said roses
in her 20s. Vases filled with perfect
red petals, predictable scents.

Sunflowers for the baby years
Larger than life, overarching
the garden, living into October.
Lilies tempt as teens turn twenty
More durable than her marriage
Day lilies show up in unexpected places
In the sixth decade- wildflowers
Never to be picked, peeking between
rocks, thriving in deserts. Untamed.
Desert Yield
by Barb Lundy
Meadow fire trims the side wall.
The red petals of indian blanket
contrast her blue front door.
Sun infuses larkspur with
flared crystals of dew.
Every perspective revealed
through one prism.
Her dry garden demands
the gamble of color
the peril of wind
the hazard of quick passing storms.
Here, the certainty of not knowing
tempts a chaos she never dared before.
Bio: Barb Lundy is a hypnotherapist. She taught writing for many years at Denver area colleges. She's been widely published, including work in JAMA, The Potomac Review and The MacGuffin. Barb was nominated for a Pushcart Prize in 2005.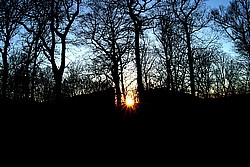 The Newly Minted Dusk
by Bobbi Sinha-Morey
Shining in the newly
minted dusk I see you
by the great river wrapped
me as the flicker of fire-
only listen to the unbro-
ken stillness before it's
The Breast of Spring
by Bobbi Sinha-Morey
Bobbi Sinha-Morey is a reviewer for the online magazine Specusphere and is a poet. Her poetry has appeared in places such as The Houston Literary Review, Falling Star Magazine, Poet's Epresso, Poetry Cemetery, and Wizards Of The Wind, among others. Plus, her latest books of poetry, The Quiet Scent Of Jasmine and Stillness In The Garden Of Light, are available at ebooksonthe.net.