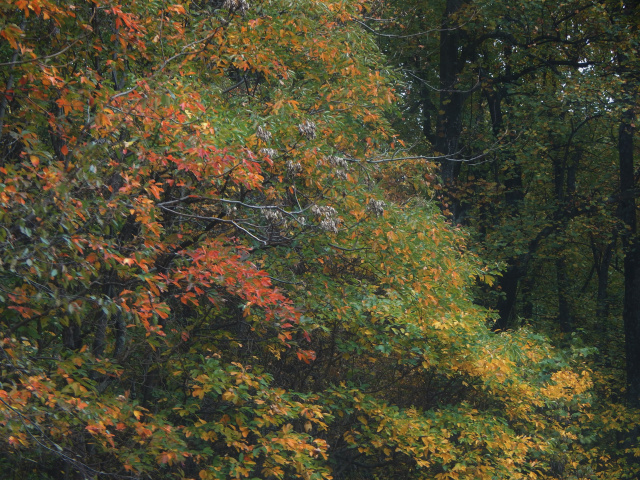 Leaves
by Tom Sheehan
I pay attention to leaves,
their first pastel places
in May, thick shrouds of July
when air's heavy with heat
and boils a shimmering
like angels dancing windowsills,
or October's furnace spectrum
of blood red and Halloween orange
as they flee their cool roosts
in helter-skelter solo flights.
Low rays of autumn sun, slanted,
closer but meeker, pass through
a leaf held up for inspection.
Routes of landscaped veins
and grid-lined filaments under
the solar microscope read
like the backs of my father's
hands, his long journeys
past dusk, and short payday's
dreams turned over by toil.
April's piles, strategically
placed on October loam beds,
yield trout worms finger-thick,
the river sounds its white water,
and bottom leaves shine like new
shoes, walnut skins, or obsidian.
Even as leaves nestle into ditches,
under brush, against fence lines,
into low damp places where water
changes shape and can be carried
without a bucket, tree roots,
tediously slow, furtive, slip
into secret streams I'll never see,
ready to drink and drink and drink
when the Earth turns to the sun.
Bio:Tom Sheehan has work in Ocean Magazine, Rosebud, Linnet's Wings, Serving House Journal, Eclectica, Copperfield Review,KYSO Flash, La Joie Magazine, Soundings East, Vermont Literary Review, Literary Orphans, Indiana Voices Journal, Frontier Tales,Western Online Magazine, Provo Canyon Review, 3 AM Magazine, Vine Leaves Journal, Nazar Look, Eastlit, Rope & Wire Magazine, The Literary Yard, Green Silk Journal, Fiction on the Web, The Path, Faith-Hope and Fiction, The Cenacle, etc.
In the Garden of Long Shadows and The Nations (2014), and Where Skies Grow Wide (2015) newly published by Pocol Press, and Six Guns, Inc., 2015, by Nazar Look in Romania, as a surprise 87th birthday present, print copy as well as an eBook. Some reviews may be found on Serving House Journal. He has 28 Pushcart nominations, and several Best of the Net and other awards, two Best of the Net selections coming from separate publishers this month.
Nazar Look Books in Romania awarded him The Nazar Look Short Story Award for 2012 and 2014.) Two new collections have been proposed to publishers; Fables, Fairy Stories, Folk Lore and Fantasies and Back Home in Saugus, 90,000 words, 200 pages of fiction, CNF and poetry.
October
Toss to the fire the dead wood,
clay mask self that stares with glazed eyes
and dances on splintered legs,
the empty shell, husk puppet
that scratches your soul like a too-small sweater.
Set down beside the river your open wounds,
ragged and bleeding where you plunge your hands
again and again to feel the tender ache.
Lie down in the tired grass, watered
with the salt sting of your fear,
for God to lie down beside you.
In the backyard, the trees surrender to the earth
the crumbling, browning pieces of their lives,
trusting the Mother to hold in her womb
the promise of greening waiting to be born.
Above the blue, the wild geese trumpet
their leaving song, the prayer that wakes your soul
from its dark cocoon, screaming and joyful,
as they chase the sunlight through the wilderness
Bio: Terri Hadley Ward is a writer and artist who gains creative inspiration from being in nature. Her poems have appeared in The Greensilk Journal, The MOON magazine, When Women Waken, and The Magnolia Review. In addition to writing poetry, she nourishes her soul through yoga, meditation, and painting. She recently finished her first chapbook, Songs of the Wild She, and is currently at work on her first full-length book of poetry.
DANCE OF THE GOLDENROD
by Linda Thornton Peterson
The wind blows
The rods sway
They know the tune
Music, nature's choice
With notes of
Gold and green
Wind, the conductor
Chooses the beat
While raindrops
Play the drums
Clouds' shadows
Add the pause
The wind chills
Notes turn
Orange and brown
Petals fall
Rods droop and
Take their bow
Bio: Linda Thornton Peterson, a Louisiana native, retired from Northern Illinois University as a psychotherapist and teacher. Her short stories have appeared in The Greensilk Journal and Flash Fiction Magazine. Poetry publications include: The Greensilk Journal, The Hanging Moss Journal, the Western State Colorado University Journal and a Northern Illinois University Journal. She won an NIU faculty poetry award and is a founding member of two DeKalb writers' groups. She was an Associated Press stringer photographer and an art teacher who continues to exhibit her art and write.
---