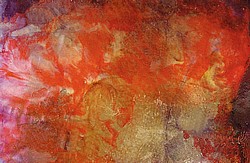 there's a house with a blue roof
green shutters and white trim
there's a gazebo in the backyard
and a secret ballroom in the attic
I had drinks there at midnight
cold liquor under a dark sky
lights off, dancing below a white star
dressed in silk and linen
made from scraps of cloth and pictures.
small ears traced with gold
a ruby tip on a cloisonné pin;
I placed my fingers in her hand
she closed her eyes and we danced
with red and yellow sandals on her feet
it was a waltz the lady guided me through
her soapy skin reflecting the moon;
the crickets rubbed their legs
in the invisible grass below,
You Don't Know Me,
her silent feet descended the spiral stairs;
she blinked her eyes and unraveled
wearing her dress of fine green satin
that breathed all the water that settled on her hem
that glistened as it fell from a body of smoke.
Bio:
David Waite is a graduate of the MFA program at Goddard College. He is currently the assistant editor of Poet's Ink Review and an English Professor in the Syracuse area.

Eastern Standard Time
by Christine Potter
I loved the early dark when I was nine:
stars before suppertime, snared
in a net of branches bared by last week's
storm. Flat on the floor with a book,

I'd felt the thunder in my stomach.
The season is breaking up, Mother said,
as if it were nothing that all of Autumn
could explode. Somehow, I was spared,

in school again and used to it--two
whole months gone. One night,
everyone's clock circled back
exactly one hour, curling into winter

the way you'd roll over in bed.
It was cold. It would stay cold. Storms
would be noiseless things, stealthy
outside classroom windows, white sparks

spangling the empty swings
unseen until someone called out,
It's snowing! and didn't raise his hand.
We'd walk home at almost-dusk,

sing "Do, A Deer" in fake-operatic voices,
that flicker of shrinking days magical,
even holy--like the urge to sprint
the last block home not out of fear,

but joy, our sides aching, the new,
harmless night cold and gentle
on our faces. We gulped air like
chocolate milk, thinking only of Christmas.




Bio: Christine Potter is the selfless woman who has for more years than she
can remember or cares to admit to has been the head moderator at The
Alsop Review's Gazebo, a venerable online writing workshop. Her first
collection of poetry, Zero Degrees At First Light, was published in
2006 by David Robert Books. She's been in lots of small online and
print publications like Tipton, The Umbrella Journal, Stirring, and
The Pedestal. She lives in an old house on a creek with two spoiled cats
and an equally spoiled husband.